Technology
Leading the industry with award-winning technology and designs,
Suzuki outboards provide features and benefits that make boating more enjoyable.
Self-adjusting Timing Chain
DF40A AND UP
EXPLANATION :
The timing chain runs in an oil-bath so it never needs lubricating, and is equipped with an automatic hydraulic tensioner so it remains properly adjusted at all times.
ADVANTAGE :
More durability compared to belt types of same class.
Maintenance-free.

Dual Water Inlet
DF350A/DF325A/DF300B, DF300AP/250AP
EXPLANATION :
The engine's cooling system relies on water supplied through two water inlets located on the lower unit where usually there is only one.
ADVANTAGE :
Increases the water flow, providing better cooling performance.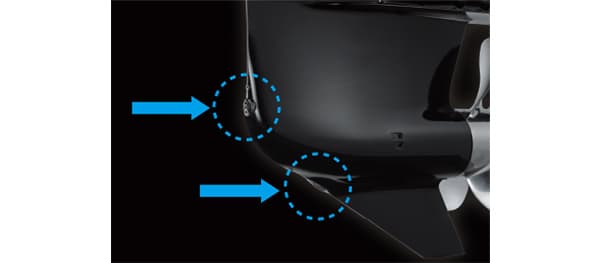 Suzuki Anti-corrosion Finish
ALL MODELS
EXPLANATION :
Special protection is applied to the aluminum surface using high strength bonding to protect the aluminum made exterior parts.
ADVANTAGE :
Protection against corrosion helps increase the overall engine durability.

Suzuki Water Detecting System
DF70A AND UP
EXPLANATION :
It helps protect the engine from water in the fuel using a water detecting fuel filter to alert the operator with both visual and audio warnings when water is present in the fuel.
ADVANTAGE :
Prevents water in fuel, which can be the cause of issues like poor combustion, lower power output and corrosion.
Suzuki Dual Louver System
DF350A/DF325A/DF300B
EXPLANATION :
The DF350A/DF325A/DF300B is equipped with a dog-leg shaped dual louver at the air intake to completely remove water from the air taken into the cowl.
ADVANTAGE :
Allows a direct intake system, contributing to higher engine output.
Prevents water from entering the outboard.
Tilt Limit System
DF50AV, DF60A AND UP
EXPLANATION :
Tilt Limit System prevents the outboard from tilting beyond a selected angle.
ADVANTAGE :
Prevents damage to the boat or outboard due to excessive outboard tilting.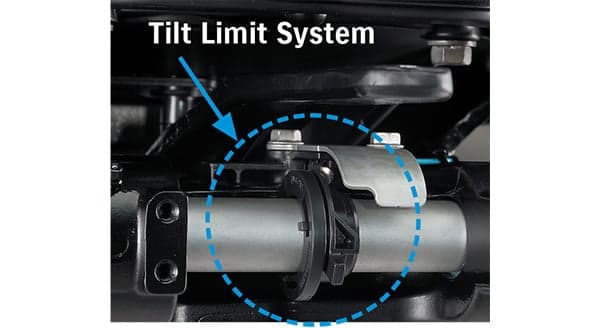 SDSM
DF9.9 AND UP
EXPLANATION :
Available for free*,this service enables you to scan the QR code containing the engine information displayed on the Multi-Function Display or Multi-Function Gauge with your smart phone and send the information via email
ADVANTAGE :
The SDSM App lets you send your authorized Suzuki dealer all the technical information they need to service and maintain your outboard motor instantly and easily.
Sub Water Inlet
DF60A/50A/40A
EXPLANATION :
Two water inlets in different directions ensure that the engine does not overheat due to the clogging of algae.
ADVANTAGE :
Offset Driveshaft
DF70A AND UP
EXPLANATION :
The offset driveshaft positions the crankshaft in front of the driveshaft, which moves its centre of gravity forward for more even weight distribution to provide balance while also minimizing vibration. The two stage gear reduction technology enables greater power and quick acceleration by enabling the outboard to spin a larger diameter propeller at a higher pitch.
ADVANTAGE :
Quick acceleration.
Less vibration.
More compact.
Stable steering performance.
Weight Forward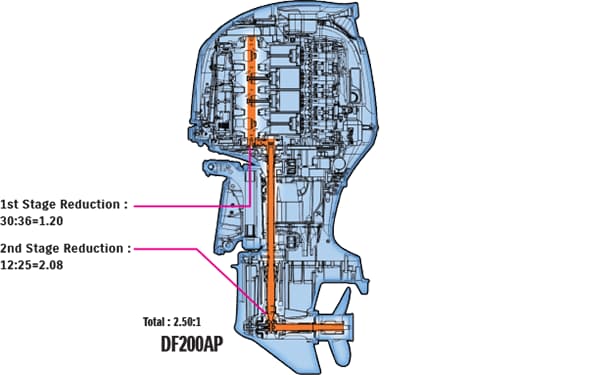 VVT (Variable Valve Timing)
DF150AP, DF175AP, DF200A, DF200AP, DF250AP, DF300AP, DF350A
EXPLANATION :
The Variable Valve Timing is used to control the open and close timing on the intake valve depending on the engine operation.
ADVANTAGE :
Offers smooth, powerful torque.
Provides tremendous acceleration during operation for all speed ranges.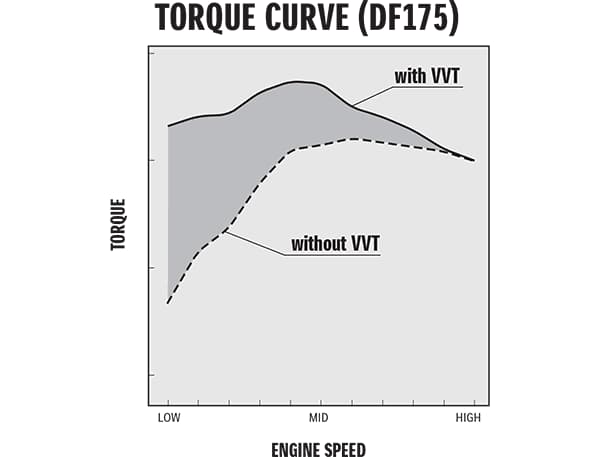 Direct Air Intake
DF350A/DF325A/DF300B
EXPLANATION :
Designing a direct airflow path from the intake port to the cylinder for a smoother, cooler flow of air boosting engine operating efficiency.
ADVANTAGE :
Delivers higher power output and improved combustion efficiency.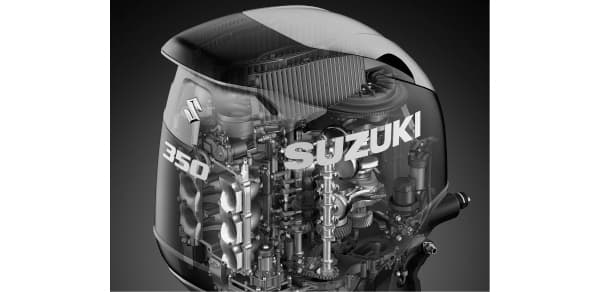 High Energy Rotation
DF60AV
EXPLANATION :
These outboards are equipped with a lower unit based on that found on the DF140, specially engineered with a 2.42 gear ratio, which is larger than the standard model, in their lower units. When combined with a large 14-inch (36cm) propeller, the powerful system can deliver an explosive forward thrust, providing the propulsion you need for moving heavy boats.
ADVANTAGE :
Powerful and precise maneuvering even with big loads.
Tremendous power to turn large diameter propellers, offering quick acceleration.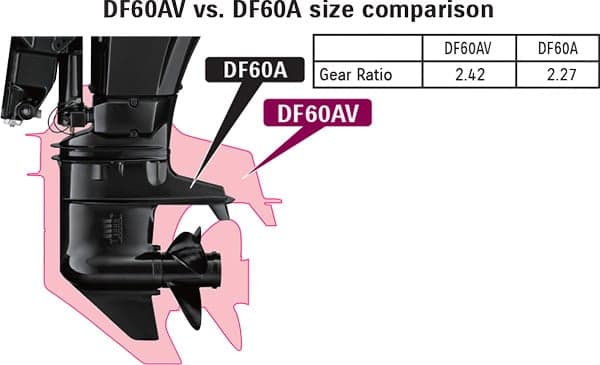 Multi-stage Induction
DF150, DF150AP, DF175, DF175AP, DF200A, DF200AP, DF225, DF250
EXPLANATION :
Manifold pipes are switched between short and long ones during low speed and high speed operation to ensure the right volume of air enters the engine.
ADVANTAGE :
Increases output during high speed operation with greater volume of air input.
Increases combustion efficiency and maximizes torque by increasing the density in the air intake during low speed operation.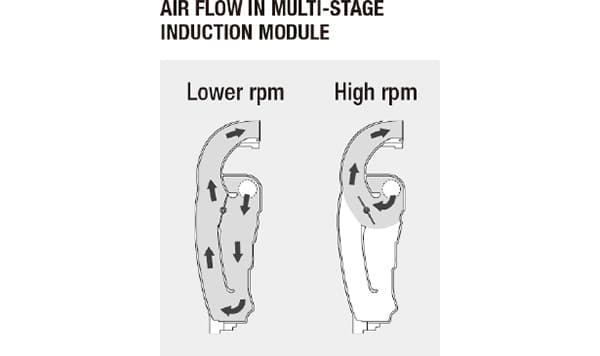 2-stage Gear Reduction
DF70A AND UP
EXPLANATION :
This system which incorporates the Offset Driveshaft 70HP and up features a first stage reduction between the crankshaft and drive shaft, and a second stage reduction inside the gear case. This design makes a larger gear ratio possible, allowing it to turn a large diameter propeller from these high performance engines.
ADVANTAGE :
High propulsive efficiency with large diameter propeller.
Maintaining propeller rotation even with a larger load.
Tremendous power to turn large diameter propellers, offering quick acceleration.
MODEL

DF140BG/115BG/
DF140A/115A/100A

DF100B/90A/80A/70A

DF200A(AP)/


175A(AP)/150A(AP)

DF250/
225/200
DF300AP/
250AP
DF350A/325A/300B
GEAR
RATIO
2.59:1
2.50:1

2.29:1
2.08:1
2.29:1
Suzuki Dual Prop System
DF325A, DF350A
EXPLANATION :
Found on the DF350A and DF325A the Suzuki dual prop system is a revolution in innovation and efficiency turns maximum horsepower output into water propulsion. With total of six blades (3 on each prop) the dual prop system provides more grip and propulsion and with each propeller rotating in different directions, exceptional stability is achieved.
ADVANTAGE :
More stability when driving straight by eliminating the lateral forces associated with a single propeller.
Engine power is transferred to the water more efficiently.
Less water resistance due to small size of gear case.
Excellent water gripping performance and quick acceleration.
High speed gear case.
High reverse thrust.
High stability.
Suzuki Selective Rotation
DF150AP, DF175AP, DF200AP, DF250AP, DF300AP
EXPLANATION :
For a large boat with two or more outboards, you generally need to pair a standard rotation outboard with a counter rotation model. The ground breaking selective rotation technology instead allows our outboards to be configured for either regular or counter rotation operation, for vessels equipped with multiple engines.
ADVANTAGE :
Either regular or counter rotation can be used on the same outboard.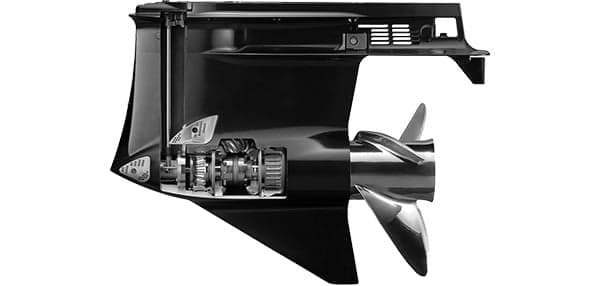 Suzuki Precision Control
(Electronic Throttle and Shift Systems)
DF150AP, DF175AP, DF200AP, DF250AP, DF300AP, DF325A, DF350A
EXPLANATION :
Operation from the remote control is delivered to the outboard via an electric signal and not by the traditional mechanical control cables.
ADVANTAGE :
Less friction and resistance compared to mechanical type that uses actual control cables.
Combined with the Lean Burn Control System, it offers improved fuel economy for a wide range of speed.
Contributes to quick and reliable operation.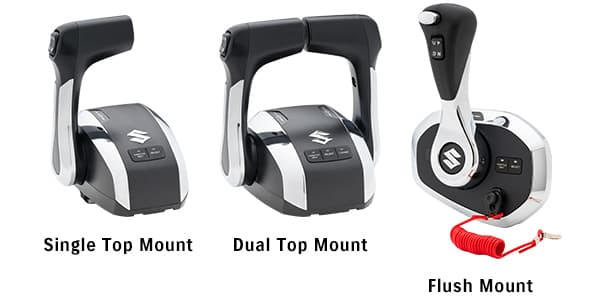 Quiet Operation
DF150AP, DF175AP, DF200A, DF200AP, DF350A
EXPLANATION :
Engine noise on boats can make it difficult to relax and enjoy your time on the water. Suzuki outboards run unbelievably quiet, so much so that some users have thought their outboard was switched off. Suzuki have long been noted for their quiet operation. Such methods to reduce noise it to resonators on the intake manifold. As air is sucked in to the intake manifold at high velocities a harsh noise can be generated. Suzuki engineers have added a resonator to reduce such noise, keeping engine operation exceptionally quiet.
ADVANTAGE :
Quiet operation.
Less noise, making boating more pleasant.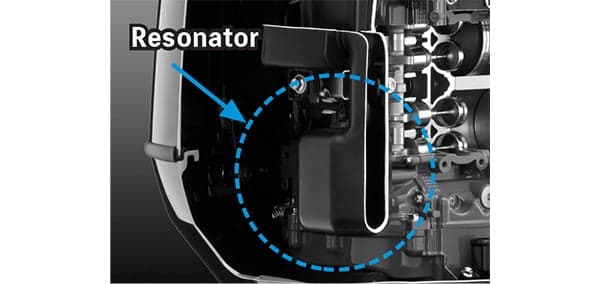 Suzuki Troll Mode System
(Optional equipment)
DF40A AND UP (NOT INCLUDING DF200TX/225TX/250TX)
EXPLANATION :
The Suzuki Troll Mode system gives boaters very fine control over engine speed when in forward gear. The RPM can be adjusted in to RPM intervals up to 1200RPM when the system is engaged.
ADVANTAGE :
Boat can keep running at a certain speed in low revs without having to operate the throttle on the boat.
Can be operated through the Suzuki multi-function gauge (2019 model engines and up).
Three-way Storage
DF4/5/6A
EXPLANATION :
The design allows the outboard to be removed from the boat and placed on any of its 3 sides for storage.
ADVANTAGE :
Can be stored anywhere.
No need to worry about the loading space or method.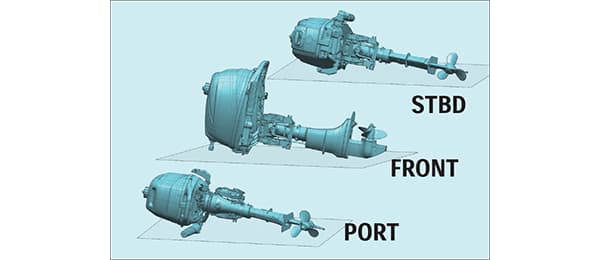 Easy Start System
DF40A AND UP (not including DF250/225/200)
EXPLANATION :
Simply turn the key and release, and the starter stays engaged until the engine starts.
ADVANTAGE :
This system offers a smoother start of the engine.
Automatic Trim*
DF350A/325A/300B, DF300AP/250AP, DF200AP/175AP/150AP, DF140BG
EXPLANATION :
The Automatic Trim adjust trim angle automatically depending on the engine RPM without your control.
ADVANTAGE :
This technology helps to keep appropriate position and contribute to achieve faster top speed and higher fuel efficiency.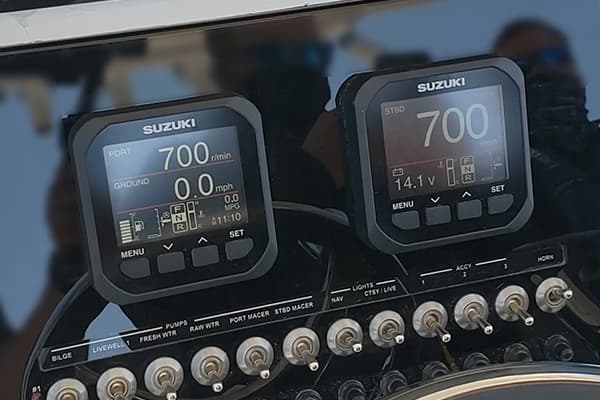 Overhead Tank
DF6A/DF5A/4A
EXPLANATION :
The integral overhead fuel tank and one-way valve delivers fuel supply by using gravity.
ADVANTAGE :
Contributes to easy start.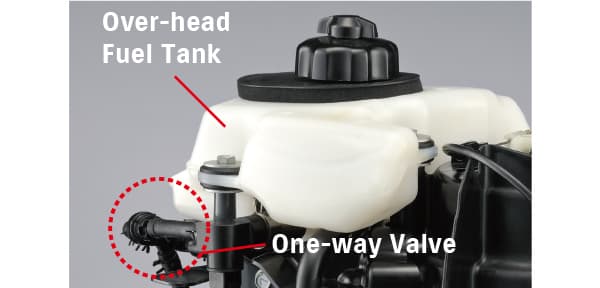 Lean Burn
DF9.9A AND UP (NOT INCLUDING DF200TX, DF225TX, DF250TX)
EXPLANATION :
The Lean Burn Control System supplies the appropriate amount of fuel and air mixture depending on the navigation conditions.
ADVANTAGE :
Significant improvement in fuel economy in all speed ranges especially at cruising speed.
Fuel is saved and gasoline costs are cut thanks to improved fuel economy.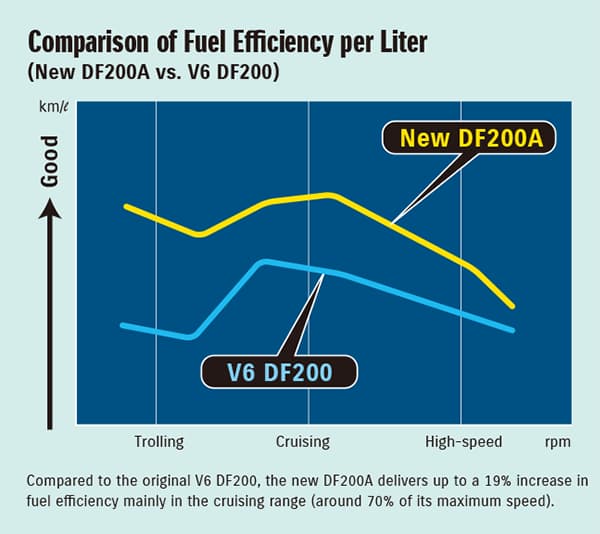 Data used in the graphs were obtained through "In-House Suzuki Testing" under uniformed conditions. Results will vary depending upon operating conditions (boat design, size, weight, weather, etc.)
Battery-less Electronic Fuel Injection
DF15A, DF20A, DF25A, DF30A
EXPLANATION :
The fuel injection system operates battery-less, another industry wide first in its class. Delivering quicker starts, smoother running performance and more acceleration in all conditions, without the need for battery power.
ADVANTAGE :
Quick and easy start.
Cleaner and economic fuel consumption.
Higher performance in almost all operating ranges.
Dual Injector
DF350A/DF325A/DF300B
EXPLANATION :
The dual injector delivers just the right amount of fuel at the right time into each cylinder. Found on the DF350A and DF352A.
ADVANTAGE :
Contributes to higher output and better fuel efficiency.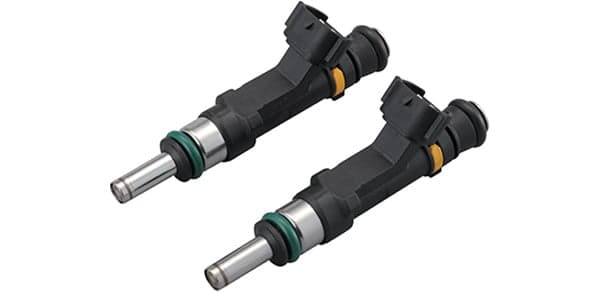 SUZUKI LEADS IN AWARD-WINNING INNOVATION
The Innovation Awards (recognising technological innovation) granted each year by the NMMA (National Marine Manufacturers Association) are considered among the highest honours in marine technology. Of the new marine industry products in that year, they are awarded to "a product that shows technical leadership, is practical and cost-effective, and is truly beneficial to the consumer." Starting with the DT200 Exanté in 1987 and extending to the DF350A in 2017, Suzuki outboard motors have received this Innovation Award a total of nine times. Eight of these awards have been for four stroke outboard motors, which is the largest number of awards in the engine category of this industry.